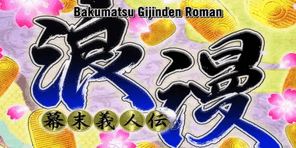 Bakumatsu Gijinden Roman
(幕末義人伝 浪漫
) is a Japanese anime series created by studio TMS Etertaiment. It is based on the CR Ginroku Gijinden Roman pachinko game, with original characters design by
Monkey Punch
, who also created Lupin III.
The anime started airing on January 8, 2013 and ended on March 26, 2013, with a total of 12 episodes.
Further information: Episodes
Ad blocker interference detected!
Wikia is a free-to-use site that makes money from advertising. We have a modified experience for viewers using ad blockers

Wikia is not accessible if you've made further modifications. Remove the custom ad blocker rule(s) and the page will load as expected.